Brooke Henderson, who has made a habit of winning in the Pacific Northwest, had a good first impression of Milton Keynes in England, the site of this week's fourth major of the season, the Ricoh Women's British Open.
Henderson's first major championship victory came with timber lining the fairways at the KPMG Women's PGA Championship earlier this year, as did her successful defence of her Cambia Portland Classic title. With that in mind, there was a pleasant surprise waiting in England.
"I love the course this year," said Henderson.
"It's not the traditional links style, kind of more tree-lined, which I won my first major on, and also my two other LPGA Tour wins are on tree-lined courses. Definitely some good vibes and some good feelings going into the week," she said.
As much as that is a positive sign, there is homework to be done by Henderson and sister/caddie Brittany before play gets underway on Thursday. She played a pro-am on Tuesday and noticed a lot of things she'll have to keep in mind.
"I think getting off the tees, making sure you're hitting fairways is all a good thing. Around the greens is where you're going to pick up shots or you're going to lose them. The greens are slopey and you need to hit it in the right spot," said Henderson.
"That's where approach shots are really important, to hit it in the bowls, or even just knowing the good spots to miss it. Playing the pro-am today, I hit the ball in some spots that I don't want to be the rest of the week, so just learning those out," she said.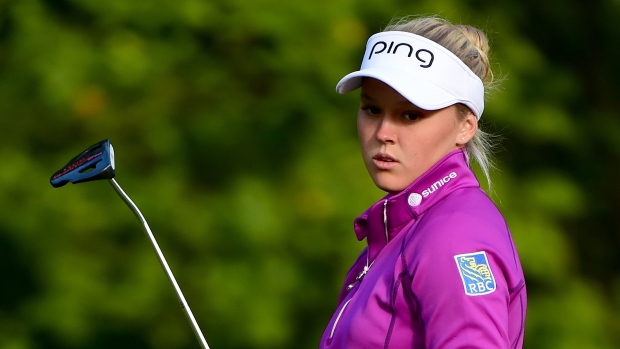 "I'll play another practice round (Wednesday) and hopefully, get a good feel for the course," she added.
Henderson will tee off Thursday morning at 7:14 a.m. local time, looking to improve on the her tie for 61st at 11 over at Trump Turnberry last year.
"Turnberry was an incredible golf course, so beautiful, but extremely tough. I definitely was victim to the wind and the rain on the weekend and on Friday afternoon," she said.
"With that being said, it was an experience like no other and I definitely appreciate links golf very much, but seeing the course this year, it is just as beautiful, just a lot more trees and I think, hopefully, I'll play well here," said Henderson.