Thanks to the May 2-4 long weekend, we're already over the hump this week and racing towards the weekend.
Let's go from over the hump to over the hill and the controversial decision by Muirfield last week to keep the doors closed to female membership, one that led to another decision by the R&A to remove Muirfield from the British Open rotation.
One member tells Martin Dempster in this story in the Scotsman that Muirfield's decision wasn't so much a vote "against the ladies," but one against the media telling it what to do.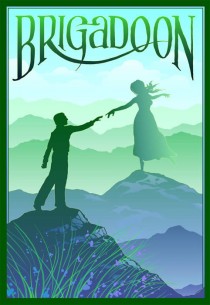 Okay, well that makes it better. It was about ego and not exclusion, well maybe exclusion, but mostly about ego.
Muirfield is a private club and it has every right to what it sees fit, so let's just let it fade into obscurity, a fate it deserves, while the rest of the world changes outside its gates. It can be like a Brigadoon, the Scottish town that appears every 100 years, then disappears into the mist.
That way, it won't look as if Muirfield knuckled under to pressure, while the world moved on.
Why take it seriously?
The R&A should slap a 25-year ban on Muirfield hosting the Open and be done with it if nothing changes with this issue before the end of the year. Call that pressure on Muirfield if you like, but the R&A has a responsibility of its own that should be its priority over dinosaur egos.
If that seems over the top, so be it if the dusty gents who like to call themselves honourable want to leave a legacy of narcissism for future generations, if there is anyone – male or female – who want to cross through the gates of Jurassic Park.
The Short Game
Time will tell, but it will be interesting to see what the long-term effect on Muirfield will be from the 64 per cent who voted in favour of female membership … The Muirfield member quoted in Dempster's
story has one thing right. Any club that finally breaks from its long-standing tradition of excluding female members can't be seen as doing it as a token effort … Ken Tarling had two birdies and a bogey on his back nine to win the PGA of Ontario's Senior Spring Open, the first of four events on the Senior Player of the Year Series at Heron Point Golf Links. Tarling finished with a two-under 69, but is leaving Friday to rejoin the European Senior Tour, beginning with next week's SSE Enterprise Wales Senior Open at Celtic Manor. "I'm usually overseas by now, so I was really happy to be able to come out. Taking a win over to Wales with me is going to be a huge confidence boost," said Tarling … Gar Hamilton took the 60+ Super Senior division with a one-under 70 … Canadian Mid-Amateur champ Garrett Rank of Elmira, Ont., who also doubles as a NHL referee, and partner Patrick Christovich of New Orleans went four-up after the opening five holes wound up losing 2-and-1 in the semi-finals of the U.S. Amateur Four-Ball Championship at Winged Foot in Mamaroneck, N.Y., on Wednesday. The USGA has more here. … Dustin Risdon of the National Golf Academy at McCall Lake played a strong second round to overtake round one leaders Kevin Black of Redwood Meadows Golf and Country Club and Kasey Timms of the Drayton Valley Golf Club to claim the first PGA of Alberta Players' Tour title of 2016. Risdon added a six-under par 66 to his first day score of 68 to take the victory over Scott Smith of Bearspaw Country Club, who climbed from fourth place to tie Black for second with a total seven-under par 137 … This week's GNN Poll asks now that the May 2-4 weekend is over, how readers see business in 2016 shaping up at their places of employment. The majority, or 42 per cent, as of this writing, expects business to be above average compared to the last five years, while another 39 per cent see it as status quo, with only 13 per cent expecting it to be below average. Another six per cent say it's too early to tell. You can still cast your vote on the GNN home page.